It's been a while since my last book review and I need to start working on them (before I will let myself buy new books). For the past two weeks I have been busy as it was the exam period for my girls and it was busier with usual trying to coach my kids while running after a baby who keeps trying to crawl away. Their last papers ended yesterday so now I have a little sliver of time in the mornings once again to do some blogging, and hopefully some sewing as well!
Today's book is by Aoi Koda 香田 あおい. You may recognize some of her older titles, such as these?
but today I will be reviewing her latest book. Aoi Koda's Pattern Lessons for Autumn and Winter wear. Just in time for your Fall and Winter sewing! I bought this book because I fell in love with the blue coat on the cover.  🙂
Included in the book, are patterns not just for jackets and coats, but also blouses and dresses and even pants, for sizes 5, 7, 9, 11, 13, 15.  Refer to the size chart below. The terms in the first column are Bust / Waist / Hip / Height. All unites are in cm.
The patterns are grouped into 5 main lessons. Each lesson is based on a set of basic patterns that can be further adapted into other garments.
The first pattern is a basic long sleeve blouse with facing. The blouse below is made with the facing on the right side and used as a decorative feature for the vertical row of buttons.
and then with the wave of a magic wand, the same pattern transforms into a….
Melton Peacoat! Can you tell what changes were made?
A simpler collarless coat made with checkered wool.
You can convert the same basic pattern into a dress as well.
The lessons are given in diagrams and not photographs, but it seems quite easy to follow.
Lesson 2 features a raglan sleeve (where there is a slanted seam line from the neck to the armhole) and also a wider hemline.
The basic pattern is a casual blouse with a elastic waistband.
Whereas 2-A is a really cool jacket made with knit fabric featuring slit zip pockets.
2-B is a collarless coat which has a more casual appearance than the one in pattern 1 due to the raglan sleeves. The 3rd variation (2C) of this pattern is the long blue coat featured on the cover of the book.


Lesson 3 is based on a dress pattern, which can be modified to make blouses, tunics or just a basic dress.
Lesson 4 features a basic shape from which you can make long coats and vests.
Hooded coat
Hooded sleeveless vest
Some ideas for accessories made with leftover fabric
Lesson 5 features 2 basic pants patterns. The first is a tapered pants with elastic waistband, and the second is a wide leg version with side concealed zip.
See what you can do with the basic pants pattern?
The basic wide leg pants can look formal if you use a fabric like wool, but the same pattern can be shortened to make culottes too! This third variation of the wide leg pants involves widening the pattern to make a pair of gaucho pants which will be great for lounging in.
2 sheets of Full size patterns included. The patterns are almost always printed double sided so if you can't find any patterns, look on the other side!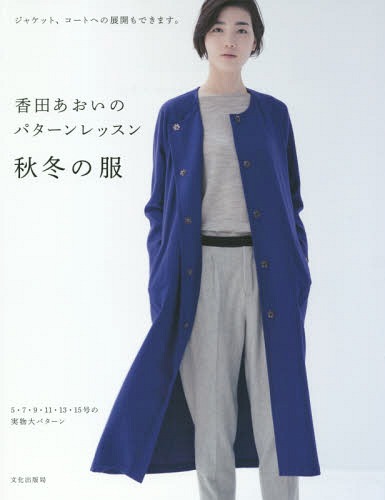 buy now from cdjapan.co.jp (affiliate link)

Title :  Aoi Koda's Pattern Lessons for Autumn and Winter wear
香田あおいのパターンレッスン 秋冬の服
Author : Aoi Koda 香田あおい
ISBN : 978-4-579-11537-2
Have you started sewing for winter yet? I have been sewing some cute little fleece jackets for my baby boy and I will post them up when I have time to take photos. Next week, I will also be announcing a very interesting giveaway for my blog's 4th birthday! You won't want to miss it!